Gluten, Peanut, Shellfish, Fish, Sesame, and Dairy Free
Prep time: 15 minutes
Cooking time: 15 minutes
Total time: 30 minutes
As the days grow longer and the weather becomes warmer, making super-hot, oven-roasted dishes becomes agonizing for anyone that lives in the kitchen. That's why today I experimented with some leftovers to make Almond Butter Satay that luckily didn't turn my house into a melting pot.
Submitted by Maria Blundo, who runs the allergy-friendly Instagram page, @sisters_with_sensitivities, this dish is not only super healthy but also gluten, peanut, shellfish, fish, sesame, and dairy free. Likewise, it is an easy meal to make for anyone who has the ingredients and about 30 minutes to spare.
Step 1:
To begin, chop all the vegetables and leftover turkey and keep to the side. The vegetables include an onion, a bell pepper, 4-5 cloves of garlic, and a handful of asparagus spears. Be sure not to combine these.
If you do not have leftover roasted turkey, ground turkey works just as well. If uncooked, brown for about 14-16 minutes in a separate pan while moving onto the next steps.
If you are on a pescatarian diet, swapping turkey for shrimp is a great sub.
Step 2:
In a small bowl combine sauce, coconut amino, crunchy raw almond butter, chili powder, red pepper flakes, and tomato paste. Mix these ingredients and keep to the side.
I use Americano Almond Butter, which is vegan, gluten-free, and dairy free.
If you don't have crunchy almond butter, smooth almond butter works just as well. Likewise, cashew butter or peanut butter works the same.
Step 3:
For the next step, heat avocado oil in a wok on medium heat. Add garlic, onion, and pepper. Sauté these ingredients for about 5 minutes before moving on to the next step.
Step 4:
Add asparagus and cauliflower rice. Sauté for about 3 minutes. After this, add turkey and continue sautéing for an additional 4 minutes.
If you are using preheated turkey or just-browned ground turkey skip the 4 minutes of sautéing and just mix instead.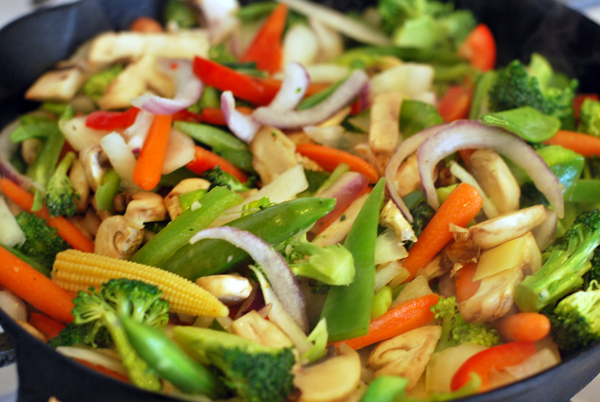 Step 5:
For our final step, add sauce, mix, and heat for 3 minutes. After this, you can serve on a bed of arugula salad or serve it by itself.
If you want a little more flavor, I like to add cherry tomatoes as a garnish. Hope you enjoy as much as I did.
For more allergy-friendly recipes click here.
Tired of cooking? To find allergy-friendly recipes in your area click here.
______________________________________________________________________________________________________
Turkey Ingredients:
2-3 cups Leftover Turkey, cubed
1 chopped onion
1 chopped pepper
4-5 cloves of garlic
A handful of asparagus spears
A bag of frozen cauliflower rice
Sauce Ingredients:
3 tablespoons coconut amino
2 tablespoons raw almond butter, crunchy
1 teaspoon chili powder
1 teaspoon red pepper flakes
2 teaspoons tomato paste
Recipe:
Chop all vegetables and turkey and keep to the side.
In a small pot. Combine sauce ingredients and mix and keep to the side.
On medium heat, heat avocado oil in a heated wok, add garlic, onion, and pepper. Sauté for 5 minutes.
Add asparagus and cauliflower rice and sauté for about 3 minutes. Add turkey, heat through for 4 minutes.
Add the sauce and combine thoroughly. Heat for 3 minutes. Serve!
______________________________________________________________________________________________________
Written by Dante Blundo, recipe by Maria Blundo.
Dante Blundo is the Social Media Intern for MacroMenu. He is the son of an allergy-centric mother who has over 40 allergies including Celiac Disease. Although Dante himself is allergic to only shellfish he continues to make recipes that accommodate everyone. You can find his recipes and more from MacroMenu here.